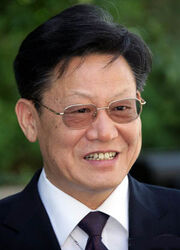 Yu Li is the representative of China in Tropico 4. His appearance is based on Sha Zukang.
Yu Li appears to be Chinese businessman, as he wears a tie and a Mandarin jacket decorated with Chinese emblems. His speech is peppered with displays of respect that border on being fawning, describing things as being 'great,' 'mighty,' and 'honorable.'
Main Campaign
Spoiler alert: The following section contains plot-specific details.
(Skip Section)
After an earthquake traps miners underground during the It's All Mine mission, Yu Li introduces himself to the presidente and offers to sell the island a drilling machine for $10,000 in order to help free them. Unfortunately, the drill is defective and simply causes another earthquake. If the presidente manages to avoid mentioning who sold the drill to Tropico, Yu Li will be grateful and relations with China will improve.
Trivia
Yu Li is voiced by Lucas Schuneman, who also provides the voice for Comrade Vasquez.
Community content is available under
CC-BY-SA
unless otherwise noted.