For buildings of the same name in other Tropico games, see Weapons Factory.
Weapons Factories process Iron from Mines into more profitable Weapons.
Modes
Sell to everyone: "Our merchandise is available to the general market. Reduces relations with both superpowers by 5."
Sell to the US: "Improves relations with the US by 5, but worsens relations with the USSR by 10."
Sell to the USSR: "Improves relations with the USSR by 5, but worsens relations with the US by 10."
Upgrades
Pressurized storage tanks: (#1 $5,000) "+15% job quality."(+15 Job Quality)
Restricted access: (#2 $7,000) "The impact on foreign relations (both positive and negative) is halved."
Heavy Machinery: (#3 $10,000 10MW) "Increases production by 20%."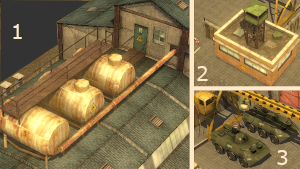 Upgrade Bug Warning:
Upgrades are not credited properly unless the order follows a left to right rule. Skipping an upgrade may result in a previous upgrade to no longer be credited, when you activate the skipped one at a later date/time. True of T3+AP and sure it was the same without AP, hope this makes sense.
Description
In-Game Text
Description:
"Some misinformed media people tried to accuse El Presidente that he's stacking up weapons and getting ready for war. Nothing can be more far from the truth. This is our pipe factory - our pipes are so good that if you are to put a cylindrical object in them and use gunpowder to cause an explosion, the object will accelerate to great speed."
Rollover:
"The Weapons factory produces Guns from Iron and worsens the foreign relations while doing so."
Strategy