For buildings of the same name in other Tropico games, see Oil Refinery.
Oil Refineries gather Crude Oil from offshore oil deposits and process that and Crude Oil from Oil Wells into Oil Products for higher profits.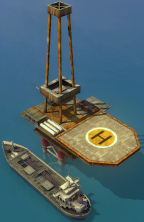 Modes
Export all: "Export all produced Oil and Oil Products."
Withhold petrol: "Withhold the exports. The Oil Refinery will stop working when the storage is full."
Upgrades
Extra Storage: ($8,000, small graphic change left/front) "The storage capacity is increased by 5000."
Wastewater treatment: ($5,000, 5MW, no graphic change) "The pollution is decreased by 25%."
Upgrade Bug Warning:
Upgrades are not credited properly unless the order follows a left to right rule. Skipping an upgrade may result in a previous upgrade to no longer be credited, when you activate the skipped one at a later date/time. True of T3+AP and sure it was the same without AP, hope this makes sense.
Description
2 Dumpster may appear on the front and back of the workers' structure. Stores 10,000units of Oil Products(output); can be upgraded to 15,000units. If 'Witholding petrol', when switched to 'Export Oil' there is a bums rush of teamster which will eventually empty the output storage(~1000units/teamster). Seldom, if never, can the player just bleed off a little. Better to just fire/lock-out the Engineers when approaching maximum capacity, if you want to wait for an expected price increase.
In-Game Text
Description:
"Black gold rules the world. Oil doesn't guarantee happiness or a place in heaven, but one thing is for sure - you'll have a hard time counting all the cash once it starts flowing."
Rollover:
"The Refinery processes crude oil and exploits nearby sea deposits."
Strategy
Place 1 Refinery and get it functioning before any Oil Wells unless you don't mind selling Crude Oil. 3 Refineries(siphoning deposits) can handle about 2 additional Oil Wells. a 1:1 ratio is usually better with refineries siphoning 1 deposit. 2 Oil Wells per Refinery if it has no deposit. Micromanage Oil Wells employees if a Refinery gets near to 1000units input, as teamsters won't deliver to a refinery unless the input+their carry amount is under 1000units. Sometimes 2 or more teamsters deliveries en route will cause input to go up to ~1500units, as with other input storage buildings.
Place the Refinery as near as possible to Oil Deposit or a mid-point between multiple deposits. Some Deposits may be too close to obstructing shoreline/rocks or too far away for the platform to be built. Use a save point and redo if the latter is the problem. Sometimes terraforming is an option to get the Crude with either Oil Well or Refinery, but if to close to Rocks or obstructing Shoreline it usually isn't worth the effort.
Refinery Engineers have two work cycles; gather crude and process product. When the deposit is exhausted any crude under 200 units will not be processed but will be delivered to the Dock when/if Refinery is demolished.