For articles of the same name in other Tropico games, see Missions.
Tropico 3 contains 15 Missions in a campaign based mode. Absolute Power expansion adds 10 missions.
The missions place you in charge of different islands, each with its own scenario and goals to accomplish. The scenarios do not follow a linear storyline but some details may carry over from one mission to another. With that said the Strategy sections below may contain minute spoilers on how to complete each mission.
Overview
Initially only 2 missions are available, and as they are completed more will are unlocked. Some are completed by reaching the end of your term in office while others require conditions to be met.
Campaign Missions
Bananas
Description
Island Name: St. Helena
Term of Office: 1950 - 1970
Objectives: Export 8000 Agricultural goods before 1970.
Unlocks: At start
Strategy:
Due to the fact that farms take 6 months to produce crops, it will be necessary to gain money. A good idea would be to have a logging camp. This will give you funds for secondary things, such as bars. Probably your biggest problem should be the housing quality, because you start with a lot of shacks. And Santa Helena does not own any resource.
Additional notes: Except for any logging camps, your economy in this mission will be entirely based on agricultural exports. You cannot build a lumber mill or a furniture factory, so you cannot take full advantage of a logging industry, but unlike a farm (which takes up to 3 years to reach full production), the logging camp can begin generating exports immediately. Almost the entire island is suitable for pineapple farms and for ranches, and the mission does let you build canneries. I kept playing a few decades after winning the mission; by the time I was done, I had ten pineapple farms and at least as many ranches producing smoked beef. Because of the way I set up El Presidente, my farms had a +60% production bonus, so two farms were producing as much as three farms normally would. Under normal circumstances (no production bonus), I would recommend one cannery for every two pineapple or coffee farms; in this case, I had two for every three farms, so I built six canneries total. The island ended up with a population of just over 600, and was earning nearly $200,000 a year from exports... half from pineapple, half from smoked beef.
Addendum: Coffee Farms are an alternative that can be manually switched to pineapple when they use up the fertility(becomes red-ish). See helper/hinder crop chart for Farms. Also rather then Logging, which uses too many male workers, utilize the Diplomatic Ministry to boost financial aid and get the USSR package for cheaper housing. The Coffee exports will net more funds then logs anyway and they can be processed by a Cannery later for more profit after the agri-requirement has been meet.
Pilgrim Haven
Description
Island Name: St. Pata
Term of Office: 1950 - 1975
Objectives: Have 150 tourists visit before 1975
Unlocks: At start
Strategy:
The island is fertile for most crops, coffee being the more difficult. The cliffs are very fertile for tobacco; however do not fail to maintain the food upkeep. The lowlands have a nice patch for sugarcane that will support 1 Distillery. A message choose event in October 1950 will give you free buildings. The island's religious faction is very strong, so it's good to build a church before the first election. It is possible to build an airport in this scenario but this is almost useless as you don't have enough space. A tourist dock fulfills the same role sufficiently enough. Remember to build accommodations and attractions for the tourists, but don't neglect your own citizens' entertainment needs! The farms will give you enough funds to build the accommodations and attractions and soon enough, the island economy will stabilize and you're free to build whatever you need.
Additional notes: St. Pata is shaped like a 'foot'. In Spanish, "pata" means "foot". I've never been successful in building a road up to the "toes", but it is possible (though difficult) to build a road up to the "heel", to take advantage of the rich soil up there. The heel is fertile for papaya, pineapple, or coffee, and has forests suitable for setting up a furniture industry. I'd recommend canned coffee; unfortunately, the mission does not let you build a power plant or even a wind turbine, so freeze-dried coffee is out of the question. The "insole" is fertile for almost everything but coffee or tobacco and is also suitable for logging. This means there are a lot of industries you could build (furniture, rum, and canned pineapple in particular), but unfortunately, your city and your entire tourist area is going to have to be built here too, so space is limited without 'Land Reclamation' from the ocean.
Land Reclamation screenshot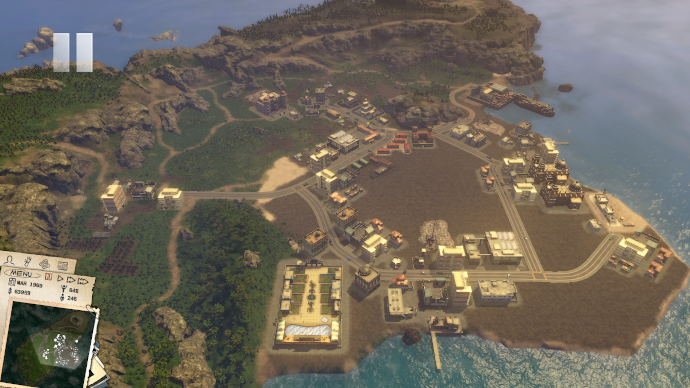 In the early part of the mission, you need to make enough money to start building your tourist district, but at the same time you have to feed your people, and you have no gold, bauxite, iron, or oil to help. What I did was build one farm growing a food crop (pineapple, actually), a fisherman's wharf, and four ranches producing smoked beef. Until your population grows, most of that smoked beef is going to get exported and will provide enough profits to start slowly growing your tourist industry. An alternate strategy is to build two sugar farms, two ranches (one for beef and one for goat cheese, to increase food variety), and a fisherman's wharf, then when you have enough profit, build a rum distillery. I think this would produce enough profit that you could start building your tourist district sooner and more quickly because using my original strategy, I had less than two years left when the tourist counter finally clicked past 150.
Second Chance
Description
Island Name: El Acantilado ("The Cliff").
Term of Office: 1950 - 1970
Objectives: Export 5000 units of Iron by 1970
Unlocks: 2 Missions Complete
Strategy:
In this scenario, you can call a Humanitarian Aid Camp. That will take care of food and medicine for 5 years. Now, the island isn't fertile, even the corn can't grow there. Starting to use all the iron deposits is a good idea. Then, some environmentalists will come to this island and ask to "explore" the mountains. The best idea is to accept, since after some time they'll discover gold, which will let your economy flow through the years. There is almost no wood in here, so lumber camps will be almost useless. Even if you do not own any farms, ranches are a good idea, since fishermen wharves are just too far from the city and the ranches require fewer workers.
Additional notes: It is true that the island doesn't have a lot of good farmland. A large chunk of land east of your palace can grow corn or bananas, but it's average at best. You can also exploit a small area of elevated land south of the palace that is somewhat suitable for pineapple or papaya, but most of your food will have to come from ranches and fishing wharves. There are two iron deposits on the island, and if you have the Absolute Power expansion pack, you can build a Weapons Factory to generate even more profit... just don't build it until after you've exported 5,000 units of raw iron (weapons do not count towards meeting the mission objectives). It's a bit annoying that you can't build a jewelry factory to take maximum advantage of the gold mine that is discovered a few years into the mission, but even raw gold is worth a lot of money while it lasts.
Industry Titan
Description
Island Name: Isla de la Aro ("Aro" means a ring or hoop, so it could be "Hoop Island" or "Ring Island".)
Term of Office: 1960-1980
Objectives: Remain in power until 1980
Unlocks: 2 Missions Complete
Strategy:
In this scenario, you'll need to choose between two paths, the USSR or the US. They both want to share their "markets" with you, but there's an alternative, the Caribbean market. The island is very fertile for tobacco, and it also is very fertile for pineapples, papayas and coffee. Also, it has some oil deposits in the sea. The USSR will help you more than the US. Isla de la Aro has a lot of forests and some of them are very close to the city. Eventually, somebody will set a bomb in one of your buildings, the most common targets being industrial ones. Choose the second option to shut down the factory for 3 months. After some time, you'll discover that it was a nation next to Tropico. You have two options, declare war or don't do anything. Declare war and after some time the US will say that that nation needs to pay you $10,000 as reparations.
Additional notes: The description of the scenario makes it sound like more of a challenge than it actually is. All your base exports are taxed 50%, so later in the mission, you're going to need several industries to keep your treasury afloat. Fortunately, this island has everything: Two iron deposits (one far to the west of the palace, and one to the east that's somewhat closer), one bauxite deposit northeast of the palace, one gold deposit far to the southeast, and three offshore oil deposits. In addition, the island is extremely fertile for growing tobacco, and reasonably fertile for everything else except bananas and sugar. You also have some forests for logging, and an ancient ruin that can be turned into a tourist attraction if you decide to build a tourist industry later on.
You start with two farms already in place; switch them to Tobacco immediately, and build one or two farms or ranches to keep your population fed. Build a road out to the gold deposit and start mining the gold. As soon as you can afford it, build a cigar factory, even if you have to go into debt. Then when you have enough money again, build a jewelry factory and then an oil refinery near your docks. Now you've got three different industries going, and money will be rolling in hand-over-fist. Once you get to that point, all you have to do is keep the factions happy and wait the clock out.
The Great Game
Description
Island Name: El Muerte ("The Death")
Term of Office: 1950-1985
Objectives: By choosing either a Communist (>60% happiness with 250 pop.) or Capitalist (earn $500,000 in exports) approach
Unlocks: 3 Missions Complete
Strategy:
This scenario provides a hint as to how you will achieve success but won't actually define the parameters until 10-20 years in. Knowing how you will proceed will help with victory, enhancing your city to increase happiness or exploiting as many natural resources as you can.
The island itself has 3 iron deposits and at least 2 oil wells (one on land, one in the ocean). Tapping all of these is bound to increase the speed at which the Capitalist objective is completed. You may wish to have multiple Weapons Factories to process all of the iron.
If taking the Communist approach you will still need to exploit some of the natural resources since the island doesn't have a very large area for tourism. In addition the landscape of the valley your city starts in has many rocks, making effective city planning a difficult task. This victory should be pretty standard.
Many of the random events will force you to choose between Capitalist or Communist. Again, picking your side early on is helpful. Other events encountered will be taxing on your treasury, from a voodoo witch doctor who threatens you to a mysterious micro-chip found on El Prez making him steal and murder. So, it is better to remove the chip early, which costs $8,000 for the operation.
Additional notes: Just because the island doesn't have a lot of room for tourism, doesn't mean that it can't be done. Also, there are only two iron deposits (not three); one in the northern part of the island and one in the far southeast corner. There is one bauxite deposit (in the far northwest corner) and three oil deposits, one on land (near the bauxite deposit) and two in the ocean. The oil overlay says there are four oil deposits, but I can only find three; the two in the ocean are difficult to develop, so I didn't bother with them (there is a fourth, very weak, deposit just offshore from your dock).
More importantly, the island is fertile for almost every crop; this is one of the earliest islands where you can make a profitable rum industry. I play most islands for a few decades after the end of the mission; by the time I was done with this one, I had exhausted the minerals (except for the offshore oil), but had a profitable rum industry, a freeze-dried coffee industry, a canned pineapple industry, and a small tourist section. I didn't bother with a cigar industry or a furniture industry, because most of the land that's good for tobacco or lumber is up in the hills; it would take too long to get any product to market.
T3+AP notation: The 4th oil deposit is near the Dock(very small quantity but good for extra Privatization option income just before the other deposits are exhausted, if you have the room at that point). Farmers can attend to the Tobacco hillsides. Coffee land is under the Bauxite deposit, so exhaust it with 2 mines early(demolished ~1965). An Oil deposit is also on the Coffee land but the Well is small so worth the Privatization income to keep in extended play. The Iron/Weapons can be exploited last after Privatizing the Oil industry just remember to also delay any Factories if Privatization is your path. Lots of income streams on this mission; money-making wasn't a problem and you start with $20K.
Divided Loyalty
Description
Island Name: San Eustache
Term of Office: 1950-1975
Objectives: Secure peace on the island (survive all Rebel attacks)
Unlocks: 3 Missions Complete
Strategy:
The island contains 2 Gold deposits worth mining very early on. Using this cash to build an intelligent workforce is highly advised; the military demands of the island are high and having enough soldiers will be vital to survival. Keeping these soldiers happy is important and may require special attention, possibly requiring the Military Modernization.
A midgame event provides for a free Industrial building, making the Jewelry Factory cheaper if you are willing to wait for the event. And while the Jewelry Factory produces high-value goods for export you may wish to upgrade it with the Finishing Shop upgrade to double the income. Using a Wind Turbine early on is prudent. One should provide enough of the required power for the upgrade and won't need to be operated by highly paid Engineers. If you decide to build a Power Plant instead it may be a good idea to restrict the number of employees hired. Finally, keep in mind that profits from the Jewelry Factory will not count towards the bonus score objective of making $100,000 profit from selling gold.
Winning the mission will involve keeping your military strong enough to either defeat the General in power or the leader of the Rebel force. You may use the Conscript edict to avoid waiting for high school graduates and the Martial Law edict may quiet some of the Rebel activity on the island; both have drawbacks.
Additional notes: The two gold deposits are the only mineral resources on the island. You'll have to deal with regular rebel plots during your entire reign, so keeping a strong and happy military is important. Building an Army Base so you can pass Military Modernization is highly recommended. The Conscription edict may or may not be necessary, depending on how quickly your army can rebuild after a major rebel attack. Conscription allows uneducated Tropicans to become soldiers, but they are less effective in combat, and it actually increases the chance that an unhappy Tropican will either leave the island or become a rebel. Martial Law also stops some (but not all) rebel activity; don't pass Martial Law unless you can afford to take the production hit. Secret Police and Wiretapping will also be effective at helping you stop some rebel actions.
Before the end of the mission (around Nov 1969), you will have the opportunity to oppose the rebel leader or the General (who is supposedly using you as a puppet)... or both! If you continue playing after the mission ends in 1975, the rebel attacks will become less frequent and will stop completely if you can kill the last rebel, or convince them to become normal Tropicans again via the Amnesty edict.
Economy-wise, the island provides some fertile farmland for everything but sugar. Corn, bananas, and tobacco grow well in the lowlands near your palace; papaya, pineapple, and coffee grow fairly well in the highlands (in the area where the gold mines were). I ended up with a tobacco industry (2 farms and a cigar factory) and coffee industry (3 farms and 2 canneries), and fed my people with 2 fisherman's wharves, a corn farm, 6 ranches (all set up for smoked beef), a pineapple farm, and two papaya farms.
T3+AP note: Using the 'Lure the Rebels' edict is an option to reduce Rebel numbers every 3 years. The end-game choice of who you oppose affects gameplay. Opposing the General causes a percentage of soldiers to defect(becoming rebels from observation), opposing the rebels causes a number of Rebels and opposing both you suffer both penalties. The free Industrial buildings choose was one of each building type; some allowed buildings are useless. Great for those playing beyond 1975. A final pointer, the higher your population, the harder it is going to be to keep everyone happy.
Viva Tropico
Description
Island Name: Los Guerreros
Term of Office: 1950-1975
Objectives: Achieve overall Satisfaction of at least 65%
Unlocks: 3 Missions Complete
Strategy:
This can be a challenging mission. The most important thing is to stay on task and try to get happiness up. Keeping the population small helps, as does restricting immigration early. The oil wells dry up in 1955, so an alternative industry needs to be up and running to keep the economy going. A good option is a cigar factory and supporting tobacco farms. With a stable economy, check the Almanac's Happiness Ratings and the Politics tab to see which ratings need the most support and build accordingly. In the late game, once overall Happiness is 62-64%, bolster job satisfaction by raising all wages and possibly allowing the island to spiral into debt. This should push Overall Happiness high enough to complete the mission. Around 1965 - 1970, a businessman called "El Pez" will try to change the national shield of Tropico. This will give you $8,000 if you do, but will cause a 5% happiness penalty. Also, around this period, El Pez will try to do the vice versa thing, but putting a lot of El Presidente's publicity, you will need to pay $8,000, and happiness rating will rise 5%, giving the last step to the happiness rating if you did good after.
Additional notes: After restarting several times, I came up with a fairly optimal approach to this scenario. The island starts with two oil derricks already built, and there is a third oil deposit out at sea. There is also a bauxite deposit near one of the oil derricks, and two iron deposits, one of which is close to your palace and the other one is close to the other oil derrick. As soon as you start the mission, build roads out to the two oil derricks and build garages nearby. All three oil deposits are going to dry up in about five years, so get as much money as you can out of them while you have the chance. Build an iron mine on the iron deposit that is nearest to your palace. By the end of the year, you should have a steady stream of profit from iron and oil.
Within 2 or 3 years, a Japanese professor will offer to buy the ancient ruin. Go ahead and sell it to him; you lose 5% reputation with the nationalists, but they'll just have to grin and bear it; the $7,000 is more important. It won't be long before a consortium from the U.S. offers to buy your oil derricks. Sell them ONE oil derrick. After it dries up, they'll demand compensation; don't pay them a thing, just kick them off the island, and demolish the other oil derrick (the one they bought will be demolished automatically).
By this point you should already be thinking about a second industry, because the iron and bauxite are going to run out eventually. You can forget about furniture; the only land good for forestry is up in the mountains, and therefore furniture production is going to be too slow to be worth the effort. The lowland north of your palace (where the nearest iron deposit was) is the only land that's any good for growing sugar, but in my experience you shouldn't bother with a rum industry either; after only two or three harvests, I was getting almost no sugar off the two farms I built. Almost the entire plateau (where the oil derricks and the ruin were) is highly fertile for tobacco, so that's where you should start. Go ahead and build a weapons factory if you can, to maximize your profit from your iron while it lasts, and then start building tobacco farms and a cigar factory.
Build a power plant early, even if you have to go into debt for a while. In order to get health happiness up, you're going to need hospitals, which require a power plant. Radio stations and TV stations are the best way to raise Liberty happiness (and possibly turn a decent profit depending on how well you planned your residential areas and the location of the stations), but they also require electricity. Speaking of your residential areas, start with several apartment blocks, and when you can afford it, start building houses or even condos. Don't even bother with country homes, tenement buildings, or bunkhouses. Build a cathedral for every 100 Tropicans or fraction thereof to ensure Religion happiness stays high. For entertainment, you're going to want a Pub (so you can pass the Mardi Gras edict), a Gourmet Restaurant, and other entertainment venues when you can afford them and have enough people to staff them (entertainment happiness is based not just on the service quality and availability of entertainment, but also the variety). You will also want at least three different food sources. Fish and corn are easy, so build at least one more farm or ranch somewhere. I ended up with a banana farm just because the communist faction wanted one.
There are two events that will increase happiness by +10%, but to get one of them you must have a tourist dock (or an airport) and a hotel. I didn't bother with this one. The other one occurs in about 1965. Starting in 1960, save your game every year. Then, when you know when the happiness event is going to happen, load your most recent saved game. Pass as many positive edicts as you can, if you haven't already, such as Social Security, Food for the People, Tax Cut, Papal Visit, and so on. Raise everyone's salary as high as you can, even if you end up going into debt. Combined with the special event, you'll easily break the 65% happiness mark and win the scenario. Then you can reduce salaries back to normal, and keep playing as long as you want.
T3+AP notations: Privatisation is an option after the Oil deposits dry up; no sense in taking a happiness hit for the US bribe(gain extra crude sales instead of the bribe, plus get long-term 'rental fees', and maximum salaries for the 4 College gals to spend on overpriced nearby housing). Keep the Museum, free starter entertainment(65+ Ent happiness) which can be set to $0 fee for everyone/unemployed to enjoy until you set-it-up for profitability later. The two starter farms should be set to tobacco, day 1, assuming you don't object to the Diplomatic Office, Aid Camp, and balancing superpower relations for increased revenue. Firing and Blocking-off all Palace guards means you can have the Same-Sex Marriage liberty boost the first year. Then allow some guards to work to lower crime. The mission can be won by January 1964, maybe a year or two earlier.
Reforms
Description
Island Name: Unknown(Reforms)
Term of Office: 1950-1985
Objectives: Remain in power until 1985 (after at least 1 election)
Unlocks: 3 Missions Complete
Strategy:
In this scenario, you've been given a strong army. The island has bauxite, gold, and oil; however, it isn't very fertile. The island is difficult to lay down roads because most of the terrain can't be built on. The Communist faction is very strong in this scenario. The Military faction will try to do coup d'état after coup d'état. The elections edict is disabled until 1970, but it is very important to not do this right now because the Military faction will kill 5 random ecologists, intellectuals and communists, so do it around 1980. It is highly advisable to do not attempt any election fraud, as it will not count on a won election. After you have won the elections, without any fraud, the Military faction will ask many times for you to approve the Martial Law edict. If you accept after winning the elections there is no problem, if you accept before winning the elections, you will lose, and if you don't accept, they will keep asking.
Other notes: Actually, if you keep the militarist faction happy, even with the happiness penalties when you refuse to give in to their demands, they probably will NOT stage a coup d'état, although at some point almost a dozen citizens will become rebels and you'll have to deal with them. Also, the militarists only asked me once to approve Martial Law, and I refused. They did not "keep asking". The secret to making an early profit is for your Presidente to be a Booze Baron. There is a strip of land east of the palace that is big enough and fertile enough for two or three sugar farms. (alternatelly you can build Oil Refinery in that place if you prefer Oil Tycoon) As soon as you have enough money, build a Rum Distillery. If you want the bonus points for the secondary goal of shipping 15,000 units of regular rum, don't buy the Flavoring Facility upgrade just yet. The export value of rum, spiced rum, and sugar go up by about 20% a few years into the mission; with the 20% boost and Booze Baron, you'll be making over $14,000 per 100 units of regular rum and about $16,500 per 100 units of spiced rum. (For even more profit, add the Entrepreneurial trait and don't forget regular Industry Ad Campaigns once you have the prerequisites!)
If you like to continue playing for a few years (or decades) after completing the mission objective, eventually the island's mineral resources will run out. The area where the iron mines used to be is good for growing papaya and/or pineapple (mostly for food), and the huge plateau where the gold and bauxite mines used to be is suitable for setting up a freeze-dried coffee operation or a fairly large tourist district, whichever you prefer. (I rarely bother with a furniture industry, because it usually annoys the Environmentalists and takes a long time to get a shipment to the docks.)
T3+AP notes: The opening paragraph is misleading, shrug. You're supposed to be reforming from your ancestors' ways; The military buildings serve little use with 40 people. Plenty of fertile ground(bright green); don't give the %numbers much credit. Terrain build blocks are nearly non-existent; just takes a little terraforming through the grey ridges bumps. Free Election edict is enabled mid-1966 after Penultimo informs you of the 20 Monarchists that may be problematic. Knowing his behavior, he probably organized the group for his own amusement and corruption scheme. The Rum bonus in AP is 7500 units.
Pirate Cove
Description
Island Name: Carmencita Island
Term of Office: 1950-1975
Objectives: Amass as much money in your Swiss Bank Account as possible before 1975
Unlocks: 3 Missions Complete
Strategy:
This mission doesn't allow Logging Camps. The island contains a multitude of beaches, most with a high level of natural beauty. The landscape will force you to place your Tourist areas a good deal away from the palace and city center. It is advisable to exploit the Bauxite and Iron early on to help support Tourism growth. Once the mining industry is moving along and providing a good means of income, focusing on Tourism will be vital. At some time during the scenario, a world event will occur, reducing export prices by 20% but expiring some years later.
You will be given a limited 50% off deal for a Power Plant early on so keeping funds in your Treasury will be a good idea. Your citizens also have a 30% skill level at being a Pit Boss in your Casinos. Banks can provide funds for the Swiss Bank Account objective; note there is no set amount so the Incorruptible trait can still play this mission($0 SBA).
Additional notes: The land is practically useless for sugar, and even though most of the island is good for logging, you cannot build any forestry-related buildings. You also have no oil or gold, so you can forget about the rum, furniture, jewelry, or oil industries in this mission. However, as mentioned above, there is one iron mine and one bauxite mine that you can exploit early to support building a tourism industry, and you even have one ancient ruin which can be turned into a tourist attraction or into an archaeology dig to put money into your Swiss bank account. The "limited" deal on a power plant is only good for 2 years(place before Feb 1953), but if you're lucky enough to have passed the U.S. Development Aid edict by this time, the discounts stack (resulting in a 75% discount). There isn't enough time for both the US and the USSR discounts during the time frame, so choose wisely.
If you continue playing after winning the mission, when the iron and bauxite mines run out, they happen to be sitting on land that is extremely good for starting a freeze-dried coffee industry. The land near your palace is also good for tobacco; if you can support your population's food needs with fish and ranches, you might be able to set up a cigar industry. By the time I was happy with my island, I had a small but thriving tourist industry (complete with airport, 4 hotels, and one skyscraper hotel), a cigar industry (3 tobacco farms and a cigar factory), and a coffee industry (3 coffee farms and 2 canneries). My population was being fed by two fishing wharves, a papaya farm (mostly because the Communist faction wanted one), and four ranches (two set to cattle and two set to goats).
The mission goal is to put money in your Swiss bank account. You don't have to put a specific amount in; as long as you have ANY money in your Swiss account by the end of 1975, even $1, you'll win the mission(confirmation needed). Of course, the more money you have in your "retirement fund", the higher your mission score is going to be. The bonus objectives are to earn more than $30,000 from entertainment buildings and to have an entertainment score higher than 60.
T3+AP Addendum: One starter farm needs to be switched to Tobacco, ASAP for cash flow. You should provide housing, food security, healthcare, and religion to the people ASAP to keep them happy and avoid rebel traitors; Entertainment when convenient as it isn't life-threatening. 1 Mine is enough for the 2 deposits; Bauxite first and switch to Iron when your Weapons Factory is ready. Education is needed before building the placed half-priced Power Plant; you need college females for it to be useful. An SBA balance of $0 is winnable; don't know about earlier versions of the mission.
Cursed Island
Description
Island Name: El Volar Fideos ("The Flying Noodle")
Term of Office: 1950-1990
Objectives: Remain in power until 1990
Unlocks: 7 Missions Complete
Strategy:
This island can be hard to expand when starting out, since would be immigrants view the island as cursed, keeping them away. To make matters worse natural disasters strike quite often, reminding your current citizens why it's not safe to live on the island (causing emigration). Building an Immigration Office early on will prove beneficial, as will random events which will bring nice increases to your population. At some point a construction company will offer the ability to reinforce your buildings for a fee. Taking this offer will also increase the cost of future buildings. But, it will prove useful as it does.
The island has many raw resources, so setting up a Weapons Factory early on will help stimulate the economy for many years. A positive side-effect of the natural disasters is the discovery of several gold veins that should keep your treasury going until your final years in office. When a natural disaster occurs, you will lose 10 - 30 citizens, and farms, clinics and hospitals will have a high chance to be destroyed. On the other hand, every time a natural disaster occurs, International Aid Corps will give you health and food for 5 years afterwards, though this later ceases.
Additional notes: The primary goal of this mission is to last 40 years on this disaster-prone island. You get points for every intact structure at the end of the scenario; the more buildings, the higher your score. For this reason, this is one of the rare few scenarios where you don't want to build a lot of tenement buildings or apartments. Instead, most of your housing should have a small footprint, like bunk houses, country houses, or houses. Save your game every year or so; you can't do much about predicting random disasters, but if you know when a scripted disaster is about to occur, you can stop construction on everything you're currently building; a disaster cannot destroy an unfinished building! Resume construction after the disaster has passed.
You start this scenario with two iron deposits, one of which is very close to an already-built road, so you will probably want to exploit that one early. The bauxite deposit and the other iron deposit are fairly far away from your palace. There are three oil deposits in the ocean, but only one of them is near your docks; the other two are on the far side of your island. Whether or not it's worth building a refinery and paying college-educated women to staff it is up to you; if you exploit all the oil on the map, you'll net over $325,000, not counting random fluctuations in export values or the effect of traits like Entrepreneurial or the Industry Ad Campaign edict. There are no gold deposits at the start of the scenario, but eventually earthquakes will reveal gold deposits that you didn't know about. If it's practical to do so, exploit it; gold, jewelry, and fine jewelry are (as always) highly profitable.
As for crops, corn (as usual) grows just about anywhere, while papaya and pineapple will grow reasonably well on most parts of the island. The large and relatively flat area of land in the middle of the island is great for tobacco; you can easily build a profitable cigar industry here (average soil quality 75%). A small section of land at the south end of the island is the only place worth trying to grow coffee, but you could also build several ranches there instead. Ranches have a small footprint, so you can build several of them in a small area. While beef, smoked beef, and goat cheese are not as valuable as coffee products, with enough ranches, you can feed your people and still turn more profit than you would get from a meager harvest of coffee, which is not a food crop. Ultimately, I chose to ignore the oil and coffee. My income came mostly from smoked beef, cigars, weapons, and jewelry.
T3+AP note: Humanitarian Aid Edict is disabled throughout the mission. The scripted opportunities to place the Aid Camp are in 1957(minor earthquake which wipes out Refineries), 70 & 82 which are Hurricanes.
Touristico
Description
Island Name: Belleza Celleste ("Light Blue Beauty").
Term of Office: 1950-1990
Objectives: Achieve 600 Tourist visits by 1990
Bonus Objectives:

Save $50,000 to your Swiss Bank Account
Make $100,000 from Tourism

Unlocks: 7 Missions Complete
Strategy:
You will begin your rule with a small Tourism district already in place. This, along with the Ranch, will provide enough income to expand quickly. To achieve the main objective quickly you'll want to expand the accommodations you have first (your first Hotel is free), then build up your attractions. The mission should take between 20-30 years depending on how what type of tourists you wish to cater to as well as how happy you want your citizens.
The island has 3 Ancient Ruins which can be converted to Museums for tourism or Excavation sites for your Swiss Bank Account. There is also an iron deposit that can be exploited for supplemental income. Upgrading the Ranch to produce smoked beef is always helpful too.
Greed
Description
Island Name: Mantaraya ("Stingray").
Term of Office: 1950-1990
Objectives: Amass $75,000 in your Swiss Bank Account before 1990.
Unlocks: 7 Missions Complete
Strategy:
The island starts with 3 private buildings, each giving you $2,500 per year as taxes. You will have two events regarding these buildings, in which you can demand money for your Swiss account from the owner of the buildings, you can raise taxes by $500 each or you can nationalize the buildings. Since your goal is to accumulate $75,000 before 1990, the first option seems to be more feasible, but the choice is up to you. If you do not nationalize the buildings, you will lose some respect among your people but you can mitigate this effect later. Consider activating the "building permit" edict as early as possible. There is a historical site on the island which you can work to sell its antiquities and contribute to your Swiss bank account.
Construct your industry as normal, starting with tobacco farms near the oil deposit. Immediately build an iron mine and a bauxite mine. After you get your high school, build your own cigar factory and once you have built your college, go for the refinery and the oil well. Build at least one bank and flush money to your Swiss account (Building multiple banks will carry you to victory quicker). You can also build childhood homes to earn money for your pension fund, but since the income is too low, it is not suggested. Start your gold & jewelry industry. You can support your income with the furniture industry as well. Do not forget to listen to your people's needs by providing enough food (go for the wharves, there is not enough farming space on the island), building a church, at least one (better two) clinic and sufficient housing. Build at least one cathedral when requested and at least one hospital after you've built the power plant. Build your armory after the first elections and when you have your generals, build your guard stations as usual. An event regarding rebels coming from a neighboring island will occur, but if you have three full guard stations, they cannot hurt you. When given the option, catch them with your army and post them back. Do not forget to build the army base, because it is crucial for the happiness of your soldiers. Try to find some place for two sugar farms and start your rum industry. You should also build the power plant to maximize your factories' output and also to build service buildings like hospital, radio station and TV station. Building is important in this scenario if you plan to finish quick with the help of the building permit edict.
There will be an event which will decrease export prices. You may choose to stop exporting oil products at this time, if you have enough money in the treasury and have supporting industries. Do not forget to resume exporting oil products once prices rise up again or if your balance falls below $25,000.
With your solid industry, happy people (around %55), your oil exports, random events contributing to your pension fund, bank(s) and your building permit edict, you should not experience any difficulty with this mission.
Deep in Oil
Description
Island Name: Pliego
Term of Office: 1950-2000
Objectives: Export at least $200,000 worth of oil (Crude Oil and/or Oil Products)
Unlocks: 7 Missions Complete
Strategy:
The objective of this mission is simple: Sell enough oil to meet the $200,000 quota. However, when you start the mission, you will be shocked to learn you barely have enough to start building oil rigs. Fortunately in 2 years, the US will give you $20,000; the only thing they want is to keep exports at a good rate, and down the line you are given money to help get the ball rolling. After 2 months, when Penultimo says "everybody likes oil rigs", some ecologists will make themselves rebels. Therefore, you will then need a very powerful AND content army; otherwise you may experience a coup. Focus on building a decent economy to keep services afloat while dealing with rebels who will appear now and then to protest the oil industry. You will also receive an event where Argentina is hit terribly with a cow epidemic which makes Ranching a profitable side income to supplement the oil trade. But avoid that for too long or you too will suffer from the epidemic. Raise your soldiers' wage to $15 in the first years of your reign. Focus on having your garage in the city center, your first oil well, oil refinery, high school, church and college. Have one apartment block and garage near your refinery and one near your oil well, so that workers are guaranteed to commute fast and live near their workplace. After that, immediately build an army base both to keep your soldiers happy and to be able to build guard towers. Happy soldiers mean no coups. Place two of the guard towers near your refinery and one near your oil well. After that, focus on building your second oil well and responding your people's needs, i.e. build apartment blocks and a cathedral. If an election is requested and you seem to lose it (which is expected) just avoid the elections. If you have a strong and content military, it won't cause any problem. You may build an armory and additional oil wells, if you see appropriate.
T3+AP notes: You start with 3 oil deposits with a 4th discovered early. Build 4 Wells before the Refinery and don't forget about a newspaper. Keeping your population below 140 until the 1960s helps with election respect/happiness factors. Completed mission in 1963 with 90% of vote(80% for 1957). An Army Base and Palace guards were enough to handle the rebels.
The Toady
Description
Island Name: Isla Rosalita
Term of Office: 1950-1990
Objectives: Become El Presidente and survive until 1990.
Unlocks: 7 Missions Complete
Strategy:
You begin your rule of Isla Rosalita under the current Presidente. While he makes several odd choices they won't impact your scenario by much. The island has quite a few natural resources but they're also spread out all over the island. Making use of farms to produce cigars and canned coffee are likely the best choices as they won't require a huge transportation infrastructure (reducing inefficiency). The ability to construct any sort of power generating structures is limited for the first decade or so. While this doesn't make the scenario difficult it does restrict the upgrades you can install to Industrial buildings.
Completing the mission is fairly straight forward, as you won't be subject to elections early on but the incumbent Presidente will waste some money here and there. The bonus objective (to amass $50,000 in your Swiss Bank Account) should not be very difficult if you build a Bank early on.
T3+AP note: You don't have to do much. I won the mission by doing nothing; no building or demolishing just responding to the messages. Early 60s, a second bonus objection is added labeled INDUSTRY GOODS which increments by the number of goods traded each trade cycle. The more diverse your production capability the better the score will be in 1990.
Freedom
Description
Island Name: Baja Formosa
Term of Office: 1950-1990
Objectives: Amass $500,000 in your treasury
Unlocks: 11 Missions Complete
Strategy:
At the beginning, you are not allowed to build any factory, government or tourism buildings, because your island is not a sovereign state. You are bound to a Caribbean kingdom and you will need to have $500,000 in the treasury to buy your freedom. Start with exploiting iron and bauxite deposits. Build one or two logging camps. Build tobacco and/or sugar farms. After a few years, you will be able to send a petition to the king to be allowed to build the restricted buildings. The first petition should be industrial, but the island is also suitable for a tourism industry (though it lacks a historical ruin). Make your choice (industrial is suggested). You can also pick the government buildings petition to be able to build ministry, immigration office and military buildings. Save before making your choice because rebels can be a headache in the first years and trying to fight them off with only 4 soldiers can be challenging. Try to have $20,000 at least at hand to bribe the advisor of the king to accelerate your petition. Expand your industry aggressively and do not neglect your people's needs. When you are allowed to build government buildings, build an army base, guard posts, diplomatic ministry and immigration office at once. Once you have your high school and are allowed to build factories, go for them. The island is fertile enough for almost all kinds of industrial operations and you should build those industries if you want to win. Once you have your college, go for a refinery, a power plant (have American development aid before) and an oil well. Upgrade all your factories once you have electricity flowing. Build a jewelry factory, then a gold mine to ensure that no gold will be exported without having been transformed to fine jewelry (upgrade your jewelry factory to produce fine jewelry). You don't have to respond to every need of your people since you'll want to keep expenses at a minimum. Maintain a happiness level of 50-55% and you will win all elections. Have at least one clinic, one hospital, one church and two cathedrals. Two pubs (one for secret police) and one restaurant in the city center will suffice. No newspaper/radio/TV is required. Do not forget to build garages near your industrial buildings. Don't allow your people to live in shacks, build lots of apartment blocks (have Russian development aid before) to keep happiness high enough. Your machine-rolled cigars, spiced rum, oil product and fine jewelry exports will carry you to victory.
Hint: Giving $5,000 to the advisor of the king when requested will later raise your standing with the US by 15 points.
T3+AP notes: Went with Government > Industry > Tourist gift option sequence. Ended mission in late 1988 with 15,000 Oil Deposit left and other deposits exhausted or nearly so, and 4 Tobacco/2 Cigar for my Agri-industry, along with overproducing a wide variety of Food. The population never exceeded 325 people. Rebel activity was 2 batches of 2 rebels each; easily accepted Amnesty or Lured to there demise when they started to be problematic. Privatization was an option as I simply fired Bauxite miners when exhausted. A nice safety measure if my income stream didn't gain the $500,000 needed before Nov 1989. 4 Mines, 4 Factories, 1 Oil Well, and 2 Refineries.
Hippie Tropico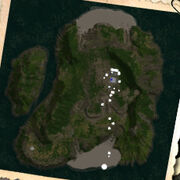 Description
Island Name: Paraiso Tropical
Term of Office: 1950 - 1971
Objectives: Achieve overall Happiness over 59 to win
Unlocks: At start
Difficulty: 105% ($8K/$6K finacial aid)

Strategy:
Convert one of the farms to Tobacco. Build a Diplomatic Ministry (Tropico 3) and a Cattle Ranch to start. Financial Aid($8K/$6K), Tobacco plus the excess food will keep you flush with spending cash. Keep the population under 90 and you should win before 1958 when a random-ish major or minor disaster is scripted to occur. Ignore the Ancient Ruins as it is too far to be useful without a Garage; Restaurant and Childhood Museum provides more than enough entertainment with avatar visits.
---
La Chupacabra
Description
Island Name: Isla Monstruoso
Term of Office: 1950 - 1970
Objectives: Make the tourists believe in La Chupacabra
Unlocks: 1 Missions Complete
Difficulty: 118% ($7.2K/$5.4K finacial aid)

Strategy:
Fire everyone but Builders and set starting wages to $3 so they can afford the Tenement. Place the Diplomatic Ministry to maximize Finacial Aid($7.2K/$5.4K) and get Humanitarian Aid. Same-Sex Marriage edict. Hire a Professor for the Museum($0 fee so everyone gets their fun). Build a Church, High School, College, and Clinic. Provide housing while building 3 Hotels(near the Museum is a good idea) and Tourist Docks after 1955. Observe the Message Hints along the way. Keep the population under 120 people until 1962. Second election and objectives complete about the same time.
---
They live among us
Description
Island Name: Isla Matriz
Term of Office: 1950 - 1980
Objectives: Unveil the mystery of Isla Matriz
Unlocks: 1 Missions Complete
Difficulty: 110% ($7.2K/$5.4K finacial aid)

Strategy:
Started by converting both Farms to Tobacco. Fired everyone but Builders and Farmers($3 wages for every to start). Built Diplomatic Ministry, Church, Aid Camp, Pub(Secret Police later), and Police Station. First Objective, finding the serial killer completes. Built Housing and Garages as needed. Built Ranch, High School, College, Clinic, Eternal Flame, Grade School and did Nationalist Day edict. Second Objective, 50 Loyalist completes. 3rd Tobacco Farm, 5 Radar Dishes, and 2 Childhood Museums. Third Objective, Contact Oracle completes. Built 2 Oil Refineries and an Oil Well to work up to the 21 Professors and Engineers needed to win mission.
The map is similar to the Advanced Tutorial mission with different buildings and Mineral resource placements. 3 minor Hurricanes may strike by 1968.
---
Back to the Past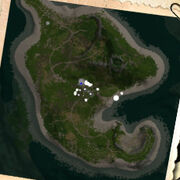 Description
Island Name: Aeonita
Term of Office: 2000 - 2020
Objectives: Survive the Time Paradox
Unlocks: 1 Missions Complete
Difficulty: 118% ($6K/$4.5K finacial aid)

Strategy:
Started by converting farms to Pineapple and Banana. Fired everyone but Farmers and Builders. Set wages to $3 so employed could afford existing housing. Adjust as needed during the time paradox.
Built Housing, Ranch, and Food Farms while waiting for the buildings to 'unlock'. Reminded me of T1 play for the first couple of years. Tobacco/Cigar industry will eventually become viable but your welcome to try whatever your play style leans to. Bauxite and Fine Jewelry were my other money makers but your style may differ. Banana bonus objective will unlock the Garbage Dump. Psilon suspect clues are the dead bodies. Many advantages of Wind Turbines for the end-game.
Too many similar messages to bother with.
---
Fickle Fortune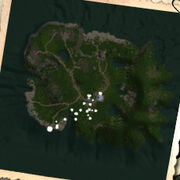 Description
Island Name: Isla De La Virtud
Term of Office: 1950 - 1975
Objectives: Build a Church before 1955
Unlocks: 3 Missions Complete
Difficulty:133% ($6.4K/$4.8K finacial aid)

Strategy:
Objective Sequence: Church - Cathedral - Papal Visit - Christ Savior. Scripted Earthquake in 1957 destroys all Mines; along with a few other buildings. You'll need to convert starting farms to coffee and build mines to complete the mission by 1960.
---
War or Peace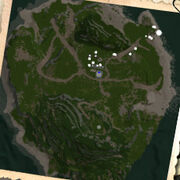 Description
Island Name: Isla Del Sol
Term of Office: 1950 - 1975
Objectives: Resolve the Caribbean crisis
Unlocks: 3 Missions Complete
Difficulty:146%($6.4K/$4.8K finacial aid)

Strategy:
Bauxite, Machine Cigars, and Oil Product provide plenty of funds; particularly for the Peace minded. Warmongers can go for the Iron/Weapons production path. There is a mix of random disasters that are triggered in January so save before years end; Hurricanes/Earthquakes can devastate your buildings. The other disasters tend to be annoyances that can be planned around.
---
Cash for Bonkers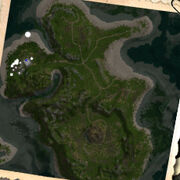 Description
Island Name: Gran Ganancia
Term of Office: 1950 - 1980
Objectives: Survive the economic crisis
Unlocks: 3 Missions Complete
Difficulty: 135% ($6K/$4.5K finacial aid)

Strategy:
Personal Style and Presidential Profile are qualifying considerations as most any choices are doable. Generally, convert the farms to Banana and Tobacco, Diplomatic Ministry to maximize income, Service buildings to keep the people happy, Apartment then Cattle Ranch. Factories are destructible when their rent no longer is a good trade-off. Expect some rebel activity and Scripted Random disasters(January). Final objective of $100,000 in the treasury presents in 1970.
---
Isle of Splendor
Description
Island Name: Puerto Bello
Term of Office: 1950 - 1980
Objectives: Fight off the rebels while keeping all Loyalists in awe
Unlocks: 3 Missions Complete
Difficulty: 171%($4.8k/$3.6k financial aid)
Strategy:
Rebels are generated 5 at a time(double that near endgame). Expect randomish disasters in January. Place the nuke program last since it causes superpower relations to plummet.
---
Shoot the Rocket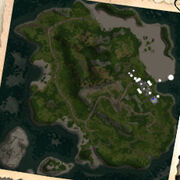 Description
Island Name: La Bomba
Term of Office: 1950 - 1980
Objectives: Construct a nuclear program by the end of 1979 in order to win
Unlocks: 3 Missions Complete
Difficulty: 113% ($6.8K/$5.1K financial aid)

Strategy:
Convert farms to Tobacco for initial cash flow, Diplomatic Ministry for more cash, and an Iron Mine or two to develop the Fine Jewelry Industry. Weapons and Oil Products will carry you through to the endgame. Expect a couple of Rebels each year so maybe heavy on Military, filling an Army Base. Watch the superpower relations after placing the Nuke Program building. Mission can be finished before 1970; the longer it takes you the more discounts you will be offered as bonus objectives.
---
Take Over the World
Description
Island Name:
Term of Office: 1950 - 1995
Objectives: Follows the order of your employer - The E.V.I.L Corporation - in order to remain in power
Unlocks: 4 Missions Complete
Difficulty: 129% ($6k/$4.5k financial aid)
Strategy:
Expect randomish disasters in January and rebel activity. Avatar helpers and timing may affect your production requirements. Export 5000 Sugar before 1957(3 or 4 Sugar Farms), 5000 Cigars before 1966(2 Tobacco farms for 1 machined cigar factory[3 farms / 2 cigar factories]-factories get bombed in 1967), build CS Statue and power plant which blowup in 1970 taking out nearby buildings, export 8000 Rum/Spiced Rum(5farms/2dist) which blowup in 1980 taking out nearby buildings, finally export $500,000 of goods before 1995 - easy with cigar, fine jewelry, oil products, weapons and rebuilt rum industry.
Possible bug: In the German Version you have to export in first "Süßwaren", 5000 goods until 1957. Sadly its not possible to produce any "sweet goods".