Were you looking for the Militarists from Tropico 5?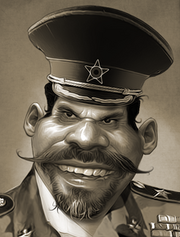 The Militarists are an internal faction in Tropico 3 and Tropico 4.
Being concerned with Tropico's protection from rebels and foreign invaders, Militarists demand that the island have a strong military force. In addition, they also care for the welfare of soldiers and their families.
Membership
Likes
The Chief of Police and Generalissimo backgrounds.
The Elected as Fascist and Military Coup rises to power.
Having at least 1 soldier or general per 30 citizens.
Having at least 1 general per 3 soldiers.
Tropico's military outnumbering the rebels.
Army Bases and armories.
Military education. In Tropico 3, having a high school set to the Military Education work mode is a minor demand.
Militarists in Tropico 3 want soldiers and generals to be receive more than $20 in wages, an army of at least 30 soldiers and generals combined, and a newspaper set to the Soldado De Fortuna mode as minor demands.
Dislikes
An insufficient military size.
The rebels outnumbering Tropico's military.
Not having armories.
Not enough generals
Disaster
Ultimatum - Angered over the presidente's lack of discipline and military might, the Militarists threaten to provoke a military coup in 2 years.