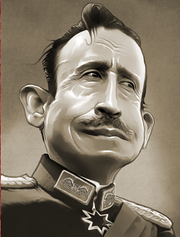 The Loyalists are an internal faction in Absolute Power and Tropico 4.
Loyalists are personally enamored with Tropico's leader and want everyone to feel as they do. To this end, they push for anything to do with the hero worship of El Presidente.
Strangely, despite their fondness for the presidente, even the most die-hard loyalists can still vote against them, run against them in elections, or turn out to be crime bosses, spies, or other antagonists in the game's campaign.
Membership
Likes
Dislikes
Not having a childhood museum.
Not having a mausoleum(Tropico 4).
Permitting free elections.
Disaster
Doubt in the Leader(Tropico 4) - Disillusioned over the presidente's lack of self-importance, followers of the neglected cult of personality will begin losing support and dropping out of the faction.
Trivia
If a SWAT HQ(Tropico 4) is set to be a 'Personal Death Squad,' only loyalists will be able to work there.