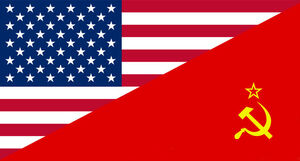 The
Cold War
is the third
Era
in
Tropico 5
preceding the
Modern Times
Era After the
World Wars
Era.
This Era takes place in the latter half of the 20th century, starting in 1946. During this time, the struggle between capitalism and communism reaches a head as tensions build between the USA and the USSR. Tourism becomes a popular industry as war weary tourists come to the island paradise to recuperate and reproduce or secretly spy on other foreigners. Uranium also becomes an available resource to export or use in Tropico's own nuclear infrastructure. Also, the oil industry becomes available during this era.
 To progress to the Modern Era, the player must build a nuclear program, or a space program. 
DLC/ Expansion Buildings
Big Brother
Contraception Ban
Geological Survey
Hydraulic Fracking
Immunization Campaign
International Summit
"Organic" Campaign
Provoke the Rebels
Secret Police
Sensitivity Training
Tourism Campaign
Waste Sorting
Community content is available under
CC-BY-SA
unless otherwise noted.