Were you looking for the Capitalists from Tropico 5?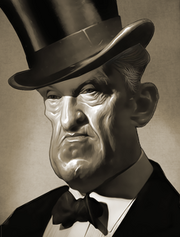 The Capitalists are an internal faction in Tropico 3 and Tropico 4.
Capitalists are concerned with making profits and having a strong economy, especially one based on lucrative industries or tourism. Because the rich are the primary victims of theft, they also place a high value on crime safety.
How you treat your island's Capitalists affects your relations with the US.
Membership
People who live near the Newspaper(Tropico 3 or 4) where the Financial Times is published will slowly be persuaded to support the Capitalists.
People who attend movie theaters(Tropico 3 or 4) where Hollywood classics are screened have a chance of becoming Capitalists.
If the nuclear shelter is set to save the rich in the event of a disaster, more people will be persuaded to become Capitalists.
Likes
The Developer, Harvard U., Miner, Oil Tycoon, Self-Made Man, and Silver Spoon backgrounds.
The Capitalist Rebellion, Elected as Capitalist, Hotel Corporate Buyout, and Installed by the CIA rises to power.
The Corrupt, Multiple Personality Disorder, and Financial Genius traits.
High Profits (having positive profits for 3 years)
High Crime Safety (above 50%)
Having an Advanced Economy (i.e. getting any income from industry or tourism)
Capitalists in Tropico 3 want the Privatization edict issued, at least one building generating $50,000 a year for 3 years, and high economic disparity (greater than 100%) as minor demands.
Dislikes
Disaster
Corruption - Angered over the lack or loss of profits, the Capitalists begin stealing and hoarding the island's income. While this is happening, a percentage of all money made from exports is lost to corrupt capitalists.
Trivia
Ultimately, capitalists care about high profits and low crime while communists care about access to housing, healthcare, and food. Because these two goals don't conflict, citizens can support both factions at the same time.